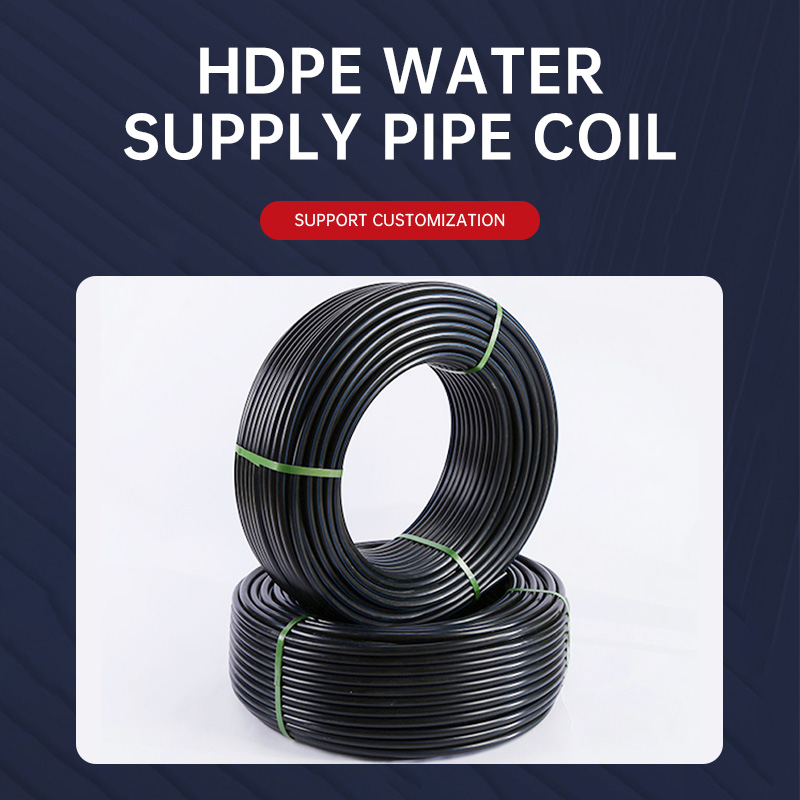 HDPE (high density polyethylene) water supply pipe, raw material from Sinopec, high density polyethylene is non-toxic and odorless milky particles, it has excellent temperature resistance and cold resistance, good chemical reliability, good ductility and impact toughness, is a kind of high crystallinity, non-polar thermoplastic resin. HDPE pipe is a new type of water supply pipe, its characteristics at all levels are better than the common traditional drainage pipe, such as cement pipe, cast iron pipe, seamless steel pipe and so on. With the development of high-tech level, HDPE pipe has become the fashion trend of the development of pipeline industry in the future, which will completely replace the traditional water supply pipe.
HDPE water supply coil application scope:
1. Gas, oil and natural gas transmission pipelines;
2. Urban and rural drinking water pipes and agricultural irrigation pipes;
3. Drainage pipe;
4. Chemical, food, pharmaceutical, papermaking, metallurgy and other industrial liquid material conveying pipeline;
5. Post and telecommunications lines, power cable protection sleeves, etc.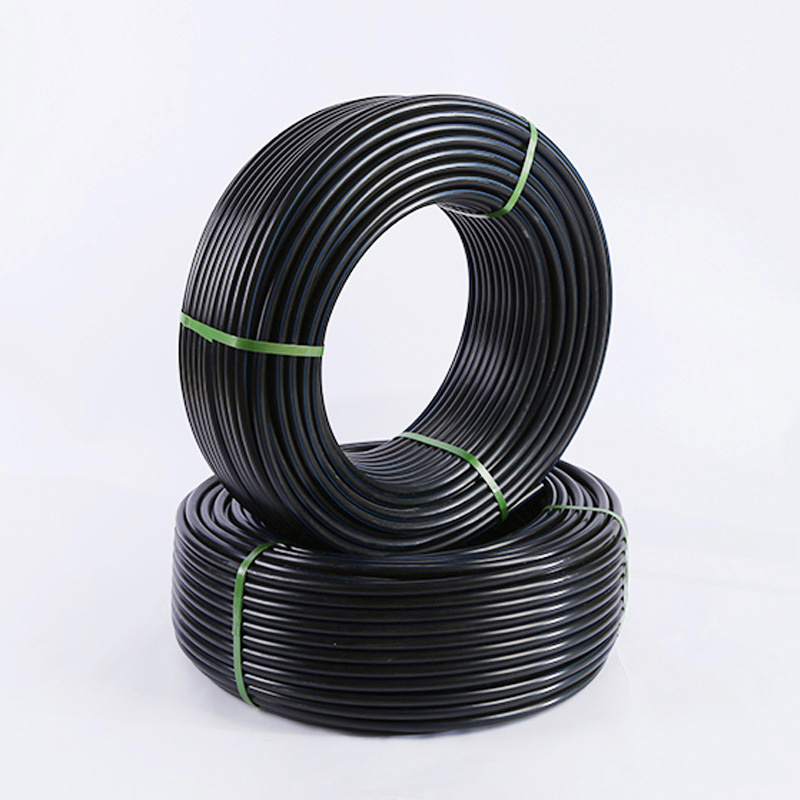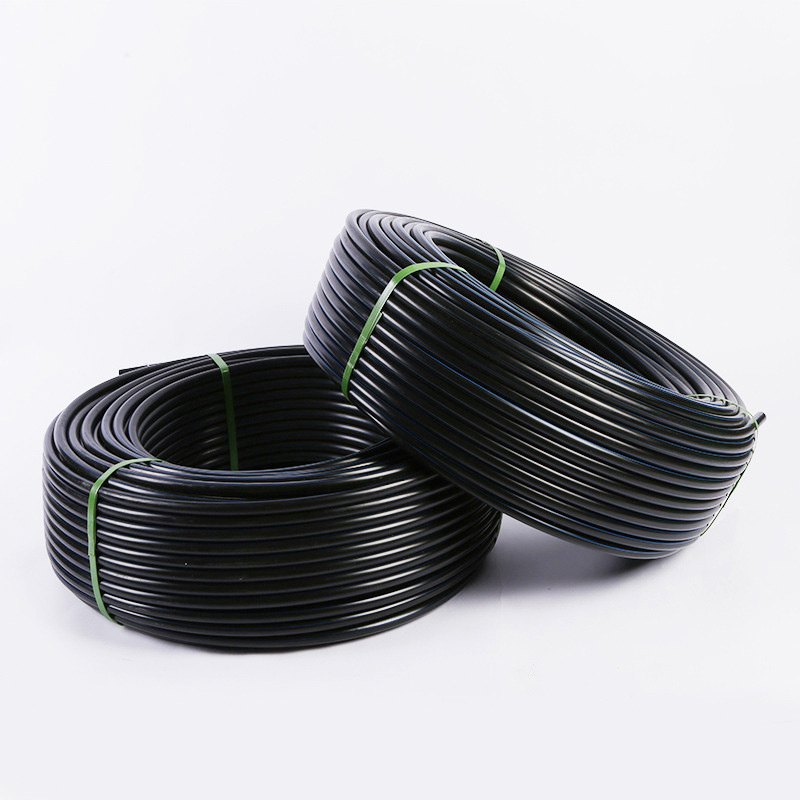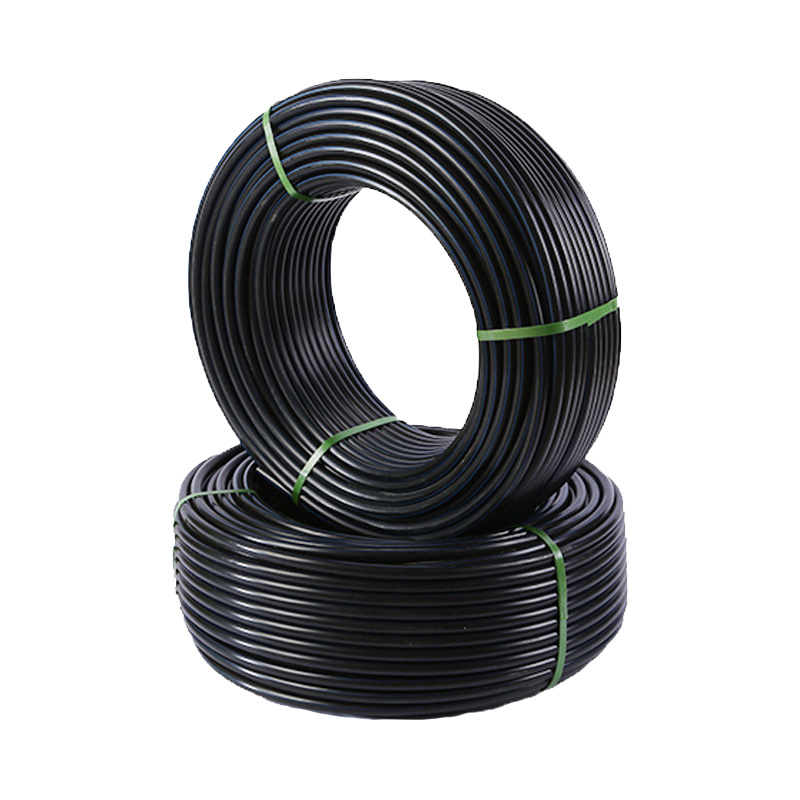 HDPE coil product features:
1. Good sanitation performance: non-toxic, no heavy metal additives, no scaling, no bacteria breeding, a good solution to the problem of drinking water secondary pollution. Comply with GB/T safety evaluation standards and relevant health safety evaluation regulations of the Ministry of Health.
2. Long service life: high strength, excellent environmental stress cracking resistance, good creep resistance, normal use can reach more than 50 years.
3. Good construction performance: easy and reliable connection, light weight, easy installation and maintenance.
4. Excellent fracture resistance and tensile performance: polyethylene water supply pipe is a kind of pipe with high toughness, its elongation at break is generally more than 500%, and it has a very strong adaptability to the uneven settlement of the pipe base. It is a kind of pipe with excellent seismic performance.
5. It has outstanding low temperature resistance and good low temperature impact resistance. It can be used safely in the temperature range of -20~40, and the construction will not be affected in winter.
6. Large circulation capacity: the absolute roughness coefficient of polyethylene to the inner wall of the water pipe is not more than 0.01, which can effectively reduce water consumption. No clogging, high transmission efficiency
7. Good chemical corrosion resistance: corrosion resistance to a variety of chemical media; No electrochemical corrosion.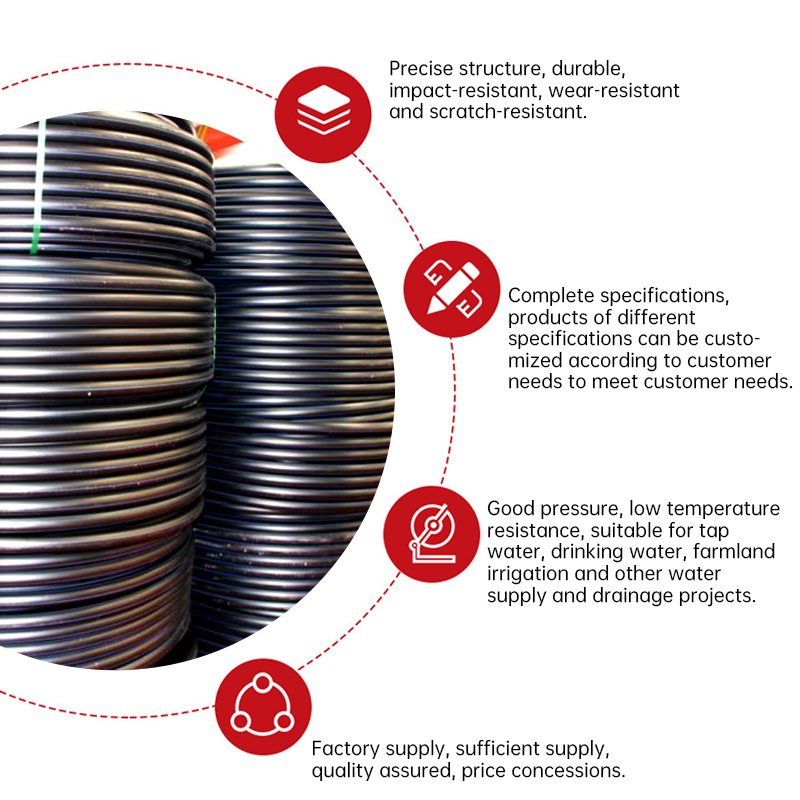 Yunnan Yunfeng Water-saving Technology Co., Ltd. is a professional design, production, sales, installation of agricultural water-saving irrigation products emerging enterprises, our company mainly produces PE engineering pipe, agricultural pipe, spray belt, drip irrigation belt, the main products are spray drip irrigation series, filters, pipe fittings pipe and accessories, etc. Products involved in agriculture, flowers, gardens, vegetable greenhouses, tobacco, lawn irrigation and other water-saving irrigation fields.
The company was registered in 2014, has always been adhering to the "lasting quality, ambition" company philosophy, to provide "high quality products and services" as the guiding ideology; With the goal of creating "excellent and high-quality water-saving irrigation products", we sincerely provide fast and high-quality contact and consulting services for dealers, engineers and agricultural users around the country, and effectively solve the consumer needs of each customer, which is well received by customers at home and abroad.
The company's products are widely sold, the domestic market is mainly Yunnan, Guizhou, Sichuan, Guangxi, Guangdong, Hainan, Hubei, Shandong and other places; Foreign markets are mainly Laos, Vietnam, Myanmar, Thailand and other Southeast Asian countries.
Love to create miracles, and strive to cast success. We firmly believe that Yunnan Yunfeng Water Saving Technology Co., Ltd. will be your best choice as long as we keep to the original intention, forge ahead, and constantly meet the needs of the market and new and old customers.
Deng Shihua
ynyfjs@163.com
Disclaimer: This article is reproduced from other media. The purpose of reprinting is to convey more information. It does not mean that this website agrees with its views and is responsible for its authenticity, and does not bear any legal responsibility. All resources on this site are collected on the Internet. The purpose of sharing is for everyone's learning and reference only. If there is copyright or intellectual property infringement, please leave us a message.