Break the situation ,Looking forward to a bright future
With the development of information technology in the world and the change of global audience users, the way of Internet socialization has been changing, from the fragmentation of content of the first generation of Internet socialization; to the second generation of Internet socialization represented by Facebook, its content and social integration Set off the trend of social networks, to the third generation of super social aggregation platforms represented by WeChat, Tik, tok, SOUL, and provide an opportunity for the fourth generation of new social networks represented by Metaverse.
Like many industry giants, "Great Voyage" will launch a new Metaverse chain game system in 2021, anchoring the new blue ocean industry of "Metaverse".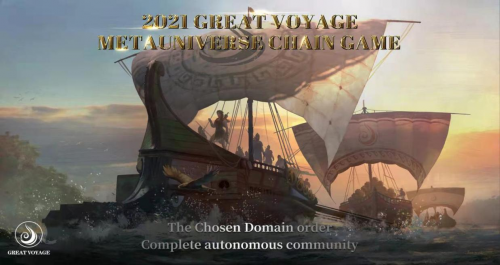 Different from traditional blockchain games, "Great Voyage" empowers games, social networking, industrial applications, and ecological landing through unique encrypted assets and NFT systems, thereby forming a valuable self-circulating encrypted asset economic system。
"Great Voyage" is not just a big voyage meta-universe. On-chain mobile game, it should also have a complete set of social and economic operation systems. "Great Voyage" forms a meta-universe chain game ecological closed loop through GVC Coin. The circulation of GVC is 50 million, and it is finally destroyed to 10 million. It has zero circulation, zero private placement, and high scarcity, all of which are rewarded by NFT card computing power. All funds participating in the blind box lottery will all add liquidity。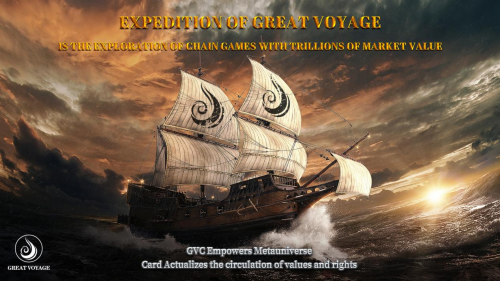 In the "Great Voyage" metaverse, consensus participants can hold and trade cards to obtain computing power, and these assets can circulate in the entire ecosystem. Unlike traditional games where points, props, weapons, and characters are all owned by developers, "Great Voyage" has been added to the blind box lottery system, so that the rights and interests of these assets belong to participants and can be disposed of at will。
"Great Voyage" provides users, community creators, and game publishers with a convenient and efficient process of trading and circulation of encrypted assets through the NFT system, and increases ecological liquidity through the first consensus mining pool, LP mining pool, and blind box lottery, so that all Everyone can participate in ecological construction and enjoy development dividends。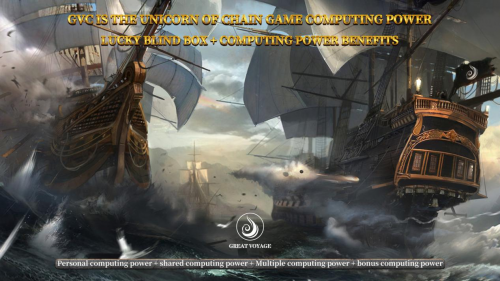 The "Great Voyage" meta-universe has changed the relationship of production, giving the highest benefits to chain game consensus players, and a fully autonomous community for a win-win situation; a unique promotion of computing power unicorn mechanism; "Great Voyage" will adopt this fair and just mechanism, by Fully autonomous communities and nodes control the development, construction, and sharing process of the entire metaverse, which brings a purer metaverse chain game experience to consensus participants.
Hand-appointed sailing orders, see you on the day of victory, we will work together to create a complete "meta universe" ecology, a new and sustainable cycle of freedom. "Great Voyage" not only carries a kind of encrypted assets or the ecological application of the meta-universe chain tour, but also takes decentralization and asset value balance as the core concept, and more constructively leads the ecological development of the meta-universe chain tour。
Disclaimer: This article is reproduced from other media. The purpose of reprinting is to convey more information. It does not mean that this website agrees with its views and is responsible for its authenticity, and does not bear any legal responsibility. All resources on this site are collected on the Internet. The purpose of sharing is for everyone's learning and reference only. If there is copyright or intellectual property infringement, please leave us a message.