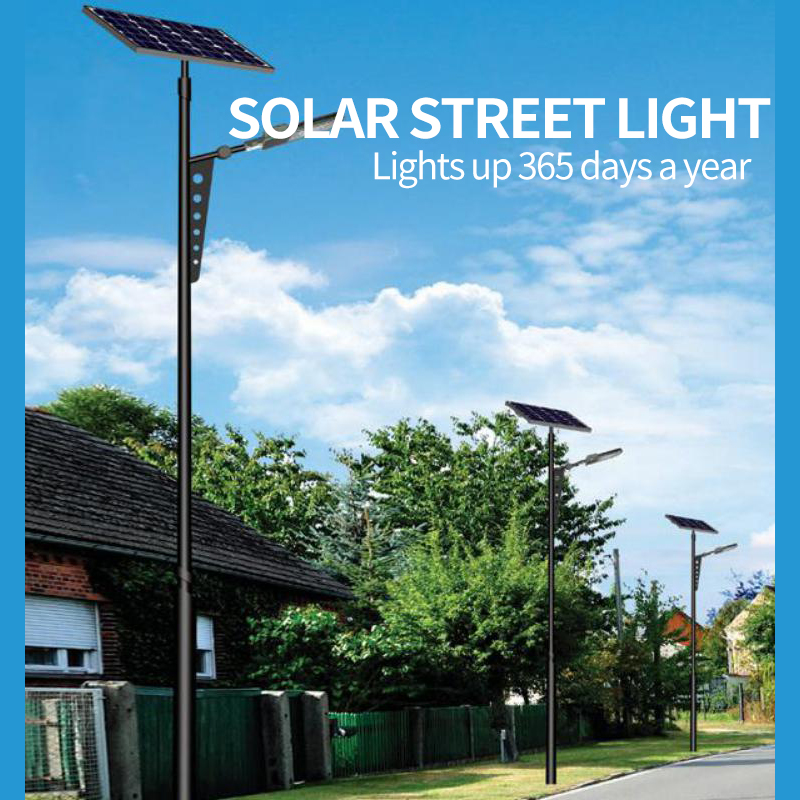 Solar street lamps are powered by crystal silicon solar cells, maintention-free valve-controlled sealed battery (colloidal battery) to store electric energy, ultra-bright LED lamps as the light source, and controlled by intelligent charge and discharge controller, used to replace the traditional public electric lighting street lamps.
Solar street lamp uses solar energy as energy source to automatically turn on the light in dark and turn off the light at dawn. No AC, safety, energy saving, environmental protection. This kind of street lamp is especially suitable for tourist area lighting, urban road lighting, rural road lighting, household courtyard lighting, residential areas, factories, parking lots and other places lighting. Light pole structure: steel light pole and bracket, surface spray treatment, panel connection using special anti-theft stainless steel screws.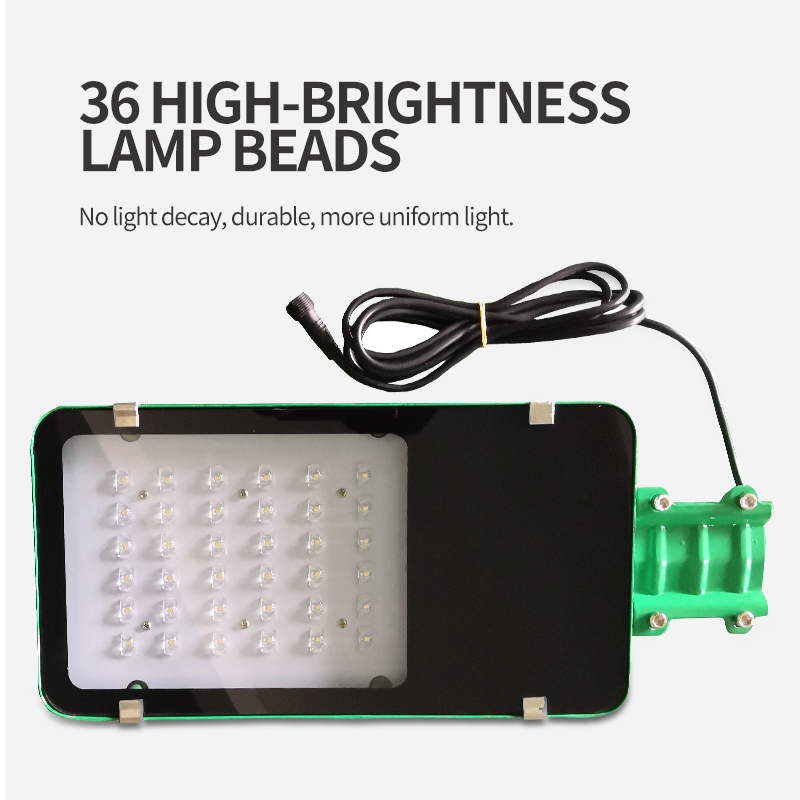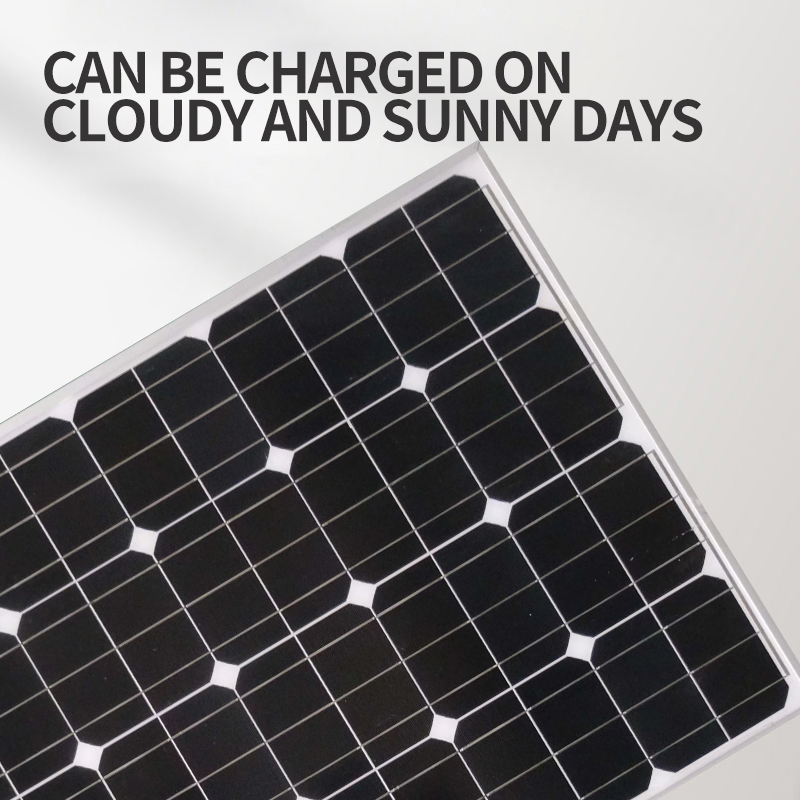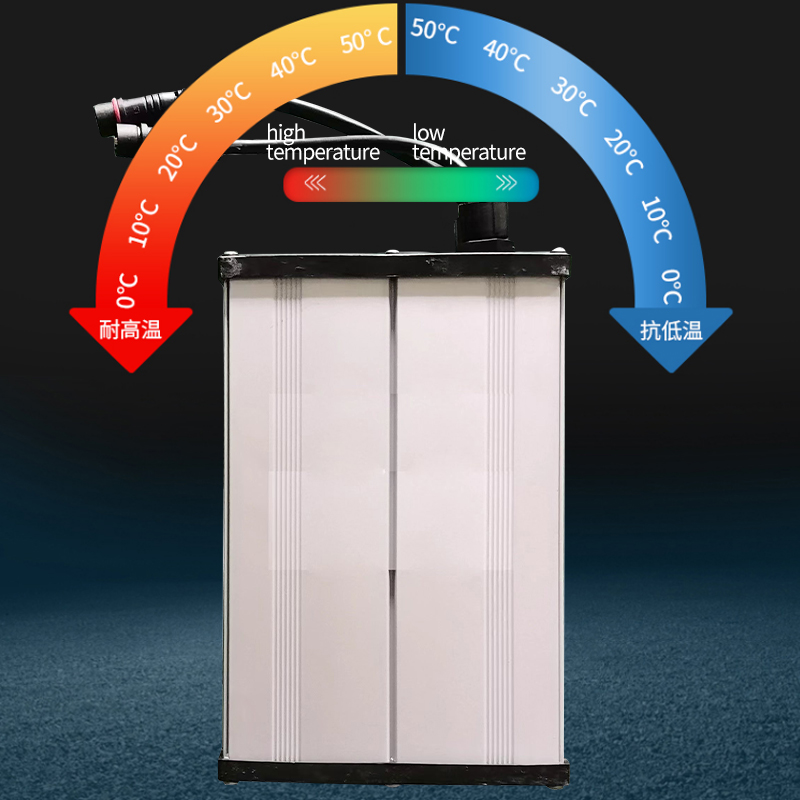 In the feature of the product, the solar street lamp uses the solar energy in the lamp source. During the day, it can use the solar circuit board to charge the battery inside the street lamp. At night, the battery can supply power to the lamps and lanterns, which can fully meet the needs of lighting. The solar power source adopted by the solar street lamp is green and environmentally friendly, which can be seen everywhere in nature, which saves the materials needed to lay the power supply line, saves a lot of manpower and material resources, and improves the construction efficiency. In addition, the solar street lamp green environmental protection, energy saving and consumption reduction, long service life, stable product structure, has very good social and economic benefits. Product design variety, can meet the different needs of users.
Solar street lamp, environmental conditions: 1, altitude: ≤5000M; 2, the ambient temperature: -50℃_+70℃; 3, design wind speed: 35m/s; 4, relative humidity: 80%; 5, seismic intensity: 8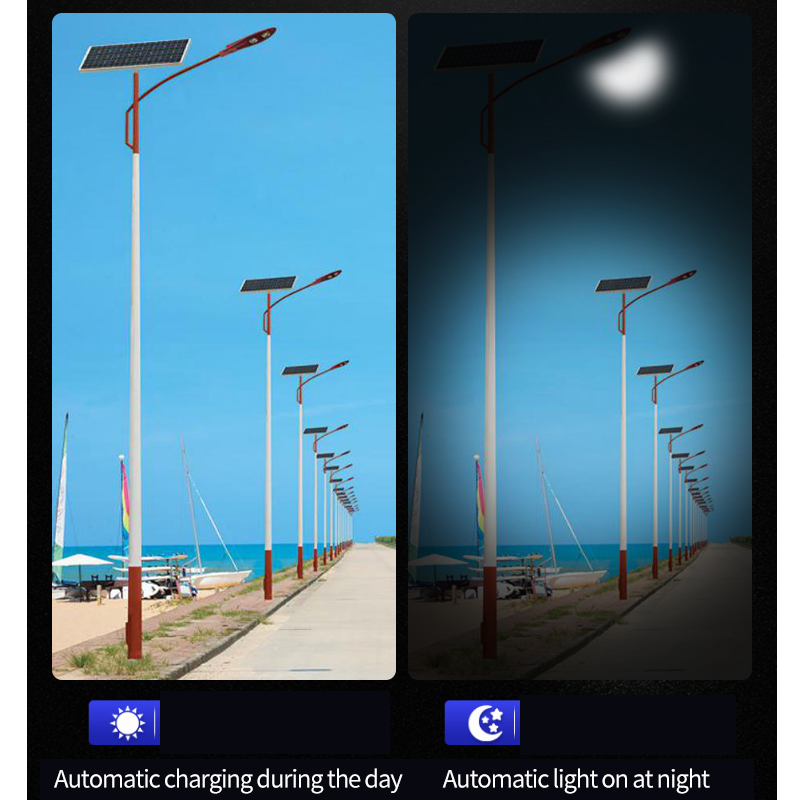 Guizhou Green Card Neng Technology Industry Co., LTD. (referred to as Green Card Neng Company) was established in 1998, located in Duyun City, Guizhou Province, with a registered capital of 11.5 million yuan, covers an area of 21 mu and standard workshop of 20,000 square meters. It is a high-tech enterprise integrating research and development, production and sales of low-sunshine solar photovoltaic and air energy series products, and is the only listed enterprise in Duyun City, Guizhou Province.
Through industry-university-research strategic cooperation with Guizhou University, the company has established a post-doctoral workstation, enterprise technology center, product research and development laboratory, and has been authorized more than 90 national patents. The company has transformed many proprietary technologies into enterprise productivity. The hot water, drying, heating and power generation products successfully developed and put on the market are: Low sunshine solar power station, low sunshine solar street lamp, low sunshine solar insect killing lamp, low sunshine solar water heater, low sunshine air energy water heater, low sunshine balcony wall hanging solar water heater, low sunshine high temperature heat pump dryer, low sunshine solar hot water engineering system eight series, dozens of varieties.
The company's products have passed the national 3C certification, China Environmental Label Product certification, ISO9001 quality management system certification, ISO14001 environmental management system certification, OHSAS18001 Occupational Health and safety management system certification, ISO10012 measurement management system certification. The enterprise has been awarded "High-tech Enterprise of Guizhou Province", "Famous Brand Product of Guizhou Province", "Famous Trademark of Guizhou Province", "Top 100 Enterprises of Independent Innovation of Guizhou Province", "Contract-abiding and creditworthy Unit of Guizhou Province", "Products supported by Innovation Fund of Guizhou Science and Technology Department", "Products supported by Innovation Fund of the Ministry of Science and Technology", "National Key New products", and "stable and qualified national quality inspection Products ", "Top 100 Private Enterprises with the most growth Potential in Guizhou Province" and other honorary titles.
Approved jointly by the Ministry of Finance, the National Development and Reform Commission and the Ministry of Environmental Protection, the company's products have been included in the government procurement list of energy-saving products and environmental labeling products.
The company has built an annual output of 100,000 low sunshine solar water heater automatic production line, an annual output of 50,000 low sunshine air energy R & D production line, an annual output of 50,000 low sunshine balcony wall hanging solar water heater R & D production line; 200KW low-sunshine solar power station.
The company's product sales network not only covers all parts of southern China, but also along the national "One Belt and One Road" southward strategic channel, bulk export to Southeast Asia and North America international market.
Tong Guian
NGN8229168@163.com
Disclaimer: This article is reproduced from other media. The purpose of reprinting is to convey more information. It does not mean that this website agrees with its views and is responsible for its authenticity, and does not bear any legal responsibility. All resources on this site are collected on the Internet. The purpose of sharing is for everyone's learning and reference only. If there is copyright or intellectual property infringement, please leave us a message.